NEW MEMBER CENTER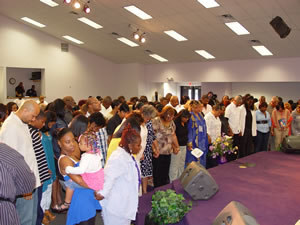 Welcome to the family of Living Water World Ministries! We are thrilled that you have decided to begin or continue your walk with Christ in this church. As a new member, you need to know the beliefs of the ministry and how we function. Vital Christianity is a mandatory class for all new members to insure as a body we are all walking with the same understanding. The church office will contact and schedule all new members for their designated class. Here is an overview of the Vital Christianity topics.
SALVATION
Salvation (Greek: soteria) – heal, preserve, save (self) do well, be (made) whole. Salvation is the work of God whereby He redeems His creation through the life, death and resurrection of His Son Jesus Christ. We, his people have been delivered from bondage of all evil powers. God's deliverance is rescue from such evil as sin, selfish and corrupts rulers, Satan, death, the grave and hell. His deliverance is into life, light, love, health, wholeness, safety, peace, joy, freedom and heaven. Salvation is the worship of the one true and holy God, the covenant God of Israel who is God and Father of our Lord Jesus Christ.
FASTING
One aspect of Christian life that is experiencing a revival in our time, is fasting. Perhaps we need to listen once more to the Bible's teaching about fasting, so as not to miss this blessing. It is not true that only Pharisees fast. Right through the Bible, also in the New Testament fasting plays an important role in serving God. During the Reformation, fasting was prominent.
THE HOLY GHOST/SPIRIT
Truth:
There is an experience following salvation of being filled with the Holy Ghost.
Holy Spirit
– is the third person of the Trinity; the presence of God promised by Christ and sent to his disciples at Pentecost representing God's active presence in the believer, the church, and the world.
Before Jesus left this world, He promised to send another "Comforter" – someone to teach and guide us, and to enable us to face a hostile world. The word "Comforter" is from the Greek " Parakletos", meaning one called to the side of another for the purpose of helping in anyway. In New Testament usage, the "Parakletos: is not a passive one called in to help, but One who is sent (John 14:26; 15:26; 16:7), gives and receives. He does more than merely "put in a good word"; He brings active help.
THE MINISTRY OF GIVING: Tithes
Thought:
Money itself is a moral: it's not good, and it's not bad. But depending on how it is used, it becomes either good or bad.
Tithing
– is the practice of giving 10 percent of one's gross income to the Lord.
Money can be a great blessing, but the key to it is what you think of it. You hear a lot of people say, "If I had a million dollars I would give a lot to the Lord". No, they wouldn't. The question is not what you would do with a million; the question is, what are you doing with the ten in your pocket?
The first fact that we must understand is God owns everything!
The silver and gold is mine, saith the Lord of hosts. " (Haggai 2:8) "But thou shalt remember the Lord thy God; for it is He who giveth thee power to get wealth." (Deuteronomy 8:18)
God only requires that we give him ten percent and we can keep ninety percent! What a gracious God we serve! Yet, in the valuable question; "Will a man rob God? Yet ye have robbed me. But ye say, Wherein have we robbed thee? In Tithes and Offerings." If we are not willing to give a tithe, we need not pretend we are going to serve Him in all His commands. We need not tell people we have submitted ourselves to Him if we are not willing to come up to the bare minimum of tithing, which the Jew under the Law was commanded to do. Tithing is an act of one who responds to the object of his worship out of love, reverence, and faith. Tithing is the beginning.
BAPTISM
Thought:
It is a change within us that breaks the grip of sin upon our hearts and makes it possible for us to live that which is Holy and pleasing to God.
WHAT DOES THE WORD BAPTIZE MEAN?
It means to immerse or dip or cover wholly with fluid. The bible shows baptism to be more than "sprinkling."
Read (Matthew 3:16) "And Jesus, when he was baptized, went up straightway out of the water …" (Acts 8:38) "And he commanded the chariot to stand still; and they went down both into the water, both Phillip and the eunuch; and he baptized him."
COMMUNION OR THE LORD'S SUPPER
The communion is the sacrament wherein one shares fellowship with other members of the Body of Christ, and with the Lord Jesus Christ. It is a time of thanksgiving and praise to God for His love shown to us through the broken body and the shedding of the blood of our Lord, Jesus Christ.
(1 Corinthians 10:16)