VISITOR & WELCOME CENTER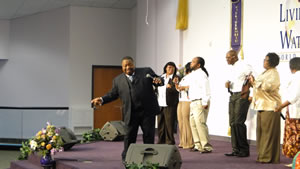 When you come to Living Water you will find our doors swing on the hinges of love. For some who may not be familiar with the exuberant atmosphere at Living Water, we prepared this section just for you!
Why Do We Lift Up Our Hands?
"Lift up your hands in the sanctuary, and bless the Lord"
(Psalm 134:2
"Thus will I bless thee while I live. I will lift up my hands in thy name"
(Psalm 63:4)
I will therefore that men pray everywhere, lifting up holy hands, without wrath and doubting."
(1 Timothy 2:8)
The lifting up of hands can mean many things. It can be a physical response of heartfelt agreement with a thought, a song sung, or a word spoken. It also expresses our total surrender to God in true worship of Him. Whatever it may mean to the individual, the lifting up of our hands is a valid expression of worship and is so stated in both the Old and New Testaments.
Why Do We Clap Our Hands?
"O clap your hands all ye people; shout unto God with the voice of triumph"
(Psalm 47:1)
Clapping of hands according to the scripture is another valid way of expressing worship to our God and King. Clapping of hands is a universal expression of joy. We believe that you will discover shortly that you are among people who find pure joy in worshipping God. Our feeling is that if there is any valid reason at all for joy, it is to be found in the privilege of coming into the presence of God and worshipping Him with our whole hearts.
Why Do We Dance Before The Lord?
"Praise Him with timbrel and dance."
(Psalm 150:4)
Another expression of worship that you may observe is dancing. This is not to be confused with dancing in the nightclub. Rather, it is the spontaneous response of an individual seeking to worship God with his whole being. King David in the Old Testament was so full of the joy of the Lord that he danced before the Ark of the Covenant, which was the symbol of God's presence in his day
Why Do We Move in the Spiritual Gifts?
"Now there are diversities of gifts, but the same Spirit…But the manifestation of the Spirit is given to every man to profit withal. For to one is given by the Spirit the word of wisdom, to another the word of knowledge by the same Spirit; to another the working miracles; to another prophecy, to another discerning of Spirits; to another different kinds of tongues; to another the interpretation of tongues."
( I Corinthians 12:4, 7-10)
"For he that speaketh in an unknown tongue speaketh not unto men, but unto God. For no man understandeth him. Howbeit in the Spirit he speaketh mystery but he that prophesieth speaketh unto men to edification and exhortation, and comfort. He that speaketh in an unknown tongue edifieth himself; but he the prophrsieth, edifieth the church."
(I Corinthians 14:2-4)
"Wherefore let him that speaketh in an unknown tongue pray that he may interpret."
(1 Corinthians 14:13)
"Praying always with all prayer and supplication in the Spirit."
(Ephesians 6:18)
The most familiar move of the Spirit we see here is through the nine Holy Spirit gifts found in I Corinthians 12:4-10. Out of these nine, God chooses to use more frequently the gift of prophesy, which is a message given in English, or tongues, with the gift of interpretation. These gifts are usually in operation some time during our worship unto the Lord.
It is very possible that in any service you will hear someone begin to speak in tongues.
There is speaking in tongues which is an individual's personal prayer language. This is a demonstration of how the Holy Spirit edifies the individual. Sometimes when praying you don't know what to say, but you feel inside a cry of joy or need. Speaking in tongues is how that feeling is communicated to God.
Then there is speaking in tongues which is the Scriptural gift of prophecy in operation. You will generally note that the entire congregation will give their attention to the speaker and then wait, often in silence, until someone speaks in English. The English that follows the speaking in tongues is the interpretation of what the first speaker has said. Someone may also deliver a message in English with it being preceded by anyone speaking in tongues.
Service Times
Sunday School 9:45 am
Sunday Service 11:00 am
Noon Prayer Tuesday
Bible Study:

Come and join the Roundtable Hour of Power every Wednesday at 7pm where Bible study gets intimate.
Location
2800 Main Street
Moraine, OH 45430
513-464-0588
Bus Service available to Sunday 11am service with 24 hour notice by calling 513-464-0588 and leave a clear message with your name, address, phone number and number of adult and child passengers.